Understanding Fractions Institute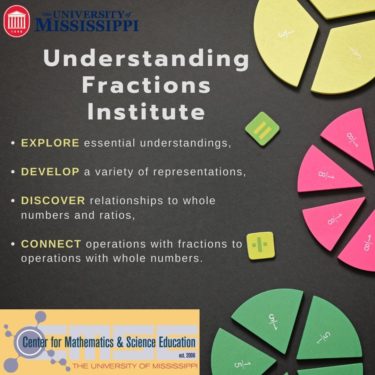 Understanding fractions as part of the number system can help students to make connections to their existing understanding of whole numbers. In this two-day workshop, we will discuss the essential understandings of fractions, develop a variety of representations for fractions, their relationship to whole numbers and ratios, and explore ways to help students understand how operations with fractions relate to operations with whole numbers.
Session Details
Registration Deadline: January 10, 2023
Date/Time: January 19-20, 2023
9:00 a.m. – 4:00 p.m. each day.
There will be a one-hour lunch break on your own each day.
Grade Band: Grades 3-6
Location:

Jackson Avenue Center Room Q24
1111 Jackson Avenue West, Oxford, MS
Course Schedule
Facilitator
CEU Information
Payment Information
Registration Deadline January 10, 2023